RESEARCH AND DESIGN THE CONTROL SYSTEM AND STABILIZE THE TEMPERATURE OF DONG TAO CHICKEN INCUBATOR
Nguyen Viet Ngu

Hung Yen University of Technology and Education

Le Thi Minh Tam

Hung Yen University of Technology and Education

Bui Thanh Tung

Hung Yen University of Technology and Education
Keywords:
Incubator, temperature, PID Control, PIC16F887
Abstract
Dong Tao chicken is one of the precious chicken breeds today, bringing high value to farmers. In order to have a healthy seed, a high hatching rate, controlling and stabilizing the temperature in the incubator plays a very important role, if the egg temperature is not enough, the embryo will not develop. The paper conducts research and design of control system and temperature in Dong Tao chicken incubator. Simulation and experimental results show that the control system works well, responds quickly to temperature changes and has high stability with small static deviation.
References
Trịnh Chất, Lê Văn Uyển, Tính toán thiêt kế hệ dẫn động cơ khí tập 1, 2006, NXB Giáo dục Việt Nam, tr. 30-40.
Bùi Quốc Khánh, Nguyễn Văn Liễn, Nguyễn Thị Hiền, Giáo trình truyền động điện, 2005, NXB Khoa học kỹ thuật, tr. 45-55 .
Võ Chí Chính, Những kiến thức cơ bản về không khí, 2005, tr. 1-11.
https://www.otofun.net/threads/tim-hieu-them-ve-moment-xoan-cuc-dai-va-cong-suat-lon-nhatcua
dong-co.625907/
http://www.diendancacanh.com/threads/so-tay-ap-trung.98000/
https://mayaptrunggiacam.wordpress.com/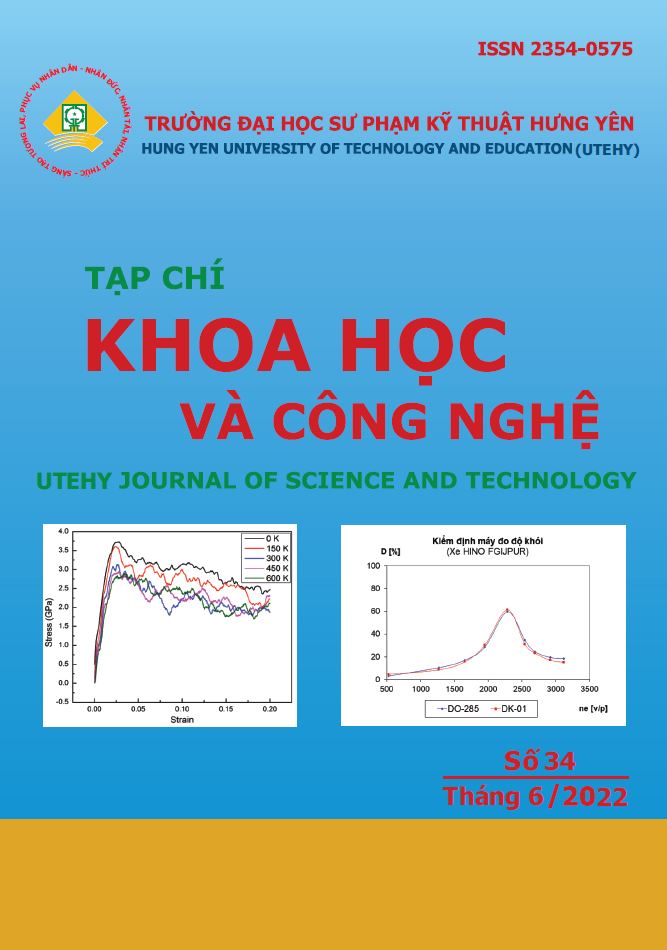 How to Cite
Nguyen Viet Ngu, Le Thi Minh Tam, & Bui Thanh Tung. (2022). RESEARCH AND DESIGN THE CONTROL SYSTEM AND STABILIZE THE TEMPERATURE OF DONG TAO CHICKEN INCUBATOR. UTEHY Journal of Science and Technology, 34, 38-43. Retrieved from http://jst.utehy.edu.vn/index.php/jst/article/view/538